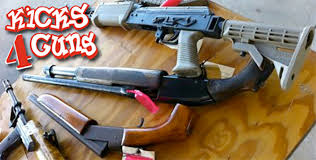 No Questions Asked…18th Annual Kicks for Guns
Now in its 18th year, Real Radio 104.1's Kicks for Guns takes place Thursday, Aug. 11, 2016, and has grown to 15 locations all around Central Florida. The gun buyback program grants amnesty to citizens who want to get rid of guns without any questions asked. Those who participate in the program by turning over a gun will receive a $75 gift card to Target. Gift certificates will be limited to the first 100 guns surrendered.
"The fact that Kicks for Guns has removed nearly 10,000 unwanted guns from the streets of Central Florida is an amazing testament to the listeners of Real Radio and their desire to make our community safer," Real Radio 104.1's Program Director Jack Bradshaw said.
The Flagler County event will be held at the Flagler County Association of Realtors (FCAR) building, 4101 E Moody Blvd., Bunnell, from 7 a.m. to 3 p.m. All firearms should be unloaded and safely secured in your vehicle. If you do not know how to unload your gun, please tell a deputy/officer immediately when you enter the event location. As a safety precaution, trained FCSO deputies and officers from Bunnell and Flagler Beach will retrieve guns from vehicles for all gun owners. Please follow the event directional signs upon arrival at the FCAR building.
"This is a collaborative effort between the Flagler County Sheriff's Office, and the Bunnell and Flagler Beach police departments to make Flagler County a safer place by taking guns off the street," Flagler County Sheriff James L. Manfre said. Funds for the event have been drawn from the FCSO's forfeiture account, funding obtained from people who commit criminal acts.
Following the event, all surrendered guns will be destroyed. Guns determined to be stolen will be returned to their owners.
Here are some Frequently Asked Questions:
1.    What kinds of guns are accepted?
Any and all guns are welcome. Pistols, shotguns, bb guns, semi-automatics, rifles, etc.
2.    If I have a bb gun, will I still get a gift card?
No, cards will only be given for actual guns.
3.    Will I get a gift card for every gun turned in?
No.  Although we will take all of your unwanted guns, we will only provide a gift card for up to five guns.
4.    Is Kicks For Guns a dumping ground for local pawn shops to unload their unwanted guns?
No, you will be turned away if you're found doing so.
5.    How do I transport my gun to Kicks for Guns?
People walking or driving to the event are encouraged to place their UNLOADED guns in a sealed bag or box clearly marked "Kicks for Guns." If you do not know how to unload your gun, please tell the deputy/officer when you arrive. If you are stopped by a police officer, tell them immediately that you have a gun in the car and are headed to the event. Follow the officer's instructions.
6.     May I enter the event carrying a gun?
No one may enter the event carrying a gun. Guns will be recovered by law enforcement officers at the event. Please follow the event instructions when you arrive.
7.     What happens if someone offers to buy my gun on the way to Kicks for Guns?
Law enforcement discourages the sales of guns outside the Kicks for Guns venue.
8.     What if I don't have a gun and want to go to Kicks for Guns?
Only people turning in guns and those accompanying them may enter the event. All others are required to remain outside the event area.
9.     What if I cannot make it to Kicks for Guns and have a gun I want to get rid of?
Call (386) 313-4911 during the event and a law enforcement officer will come to your home and pick up your gun. Please call to make arrangements.
10.   Can I drop off unwanted ammunition at the Flagler County Kicks for Guns event?
Yes, you can drop off your ammunition; however, you won't receive a gift card.
If anyone has questions about the Flagler County event, they can contact Laura Williams at (386)586-4802, or lwilliams@flaglersheriff.com. Click here to learn more about Kicks for Guns:http://realradio.iheart.com/features/kicks-for-guns-1142/