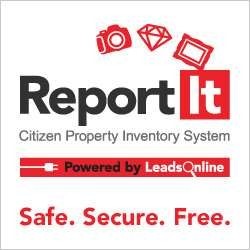 The Flagler Beach Police Department is proud to introduce Report It, a free, proactive tracking tool that provides citizens an easy way to catalog their valuables.
What is "Report It"?   It's a proactive on-line tool for recording information about your valuables in advance of a possible loss through theft, fire, flood, or other unforeseen event. Flagler Beach residents can input property information such as serial numbers, owner-applied numbers, photographs, and scans of receipts. It's completely internet based, so you never have to worry about losing the data.
How much does "Report It" cost? This is a free service available to residents through the Flagler Beach Police Department and its partnership with "Leads Online." Each account can store up to one-hundred (100) items. If additional storage is needed, please email citizen@leadsonline.com. Corporate and small business accounts are available upon request.
Why should I use "Report It"? Nobody expects to be the victim of property crime or a natural disaster. But if it does happen, you'll be able to provide an inventory of your valuables to the Police for identification, and to your insurance provider to file a claim.
What type of property should I keep track of in "Report It"? Anything of value, such as collectibles, jewelry, electronics, machinery, lawn equipment, and even designer clothes and handbags.
Is "Report It" secure? Your information is accessed by your chosen user name and password, and is protected via a Secure Socket Layer (SSL) network connection, the same type of connection used to access your bank account. "Report It" is protected by the same high-level security measures used by financial institutions and government agencies.
Are the Police able to search the information stored in "Report It"? No. Your information can only be accessed by you using your username and password. If the need arises, you can print your entry from any computer with internet access and share it with Law Enforcement.
"This is a win-win for our community and the Department," said Police Captain Matt Doughney. "Our partnership with "Leads Online" since 2014 has been extremely valuable in our efforts to combat crime in Flagler Beach. The "Report It" program is free, provides our citizens with an effective tool to document their valuables, and should they become a victim of theft or burglary, it enhances our ability to solve the case and return the property to its rightful owner."
For additional information on the "Report It" program, please contact Captain Doughney at
(386) 517-2024 or view the awareness toolkit; https://www.fbpd.org/report-it/.
The website for "Report It" is: https://ReportIt.leadsonline.com.