Public Service Announcement
 May 17, 2017
 "Legal Weed – Scam Alert"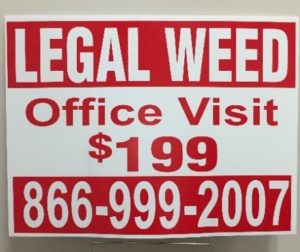 "LEGAL WEED" Scam Sign
Flagler County Sheriff Rick Staly issued a news release yesterday in reference to a "scam" that is active in our County.  According to Sheriff Staly the City of Palm Coast has been peppered with signs indicating "LEGAL WEED."  According to Sheriff Staly's news release the "scam" occurs as follows; the person answering the call informs the caller they can issue a license to legally purchase Medical Marijuana.  They will ask for your credit card and Driver's License information to issue you a license to purchase medical marijuana.  A license is not required to legally obtain Medical Marijuana, but you do need a valid prescription.
As of this afternoon there have not been any of the "LEGAL WEED" signs located in Flagler Beach.  This Public Service Announcement is being issued to alert residents, business owners and visitors of Flagler Beach about the "scam" and to provide a unified Countywide Law Enforcement message to our community regarding this active scam.
Additional information regarding Medical Marijuana can be located at the following website at: http://www.floridahealth.gov/programs-and-services/office-of-compassionate-use/
If you locate any of the "LEGAL WEED" signs in Flagler Beach, please report them immediately.  The non-emergency phone number to report this signage is (386) 313-4911.