The Flagler Beach Police Department has noticed an increase in thefts of bicycles in our residential neighborhoods. The theft of bicycles from residential neighborhoods can be considered "crimes of opportunity" and the following information is being disseminated to the public in an effort to reduce the "opportunity" from occurring.
o   Don't leave bicycles unattended. If you can see an unattended or unlocked bicycle from the roadway, then a would-be thief can see it too.
o   Close your garage doors. Unsecured bicycles in open garages are easy targets.
o   If you leave your bicycle in a carport or outside for any period of time, lock it up.
o   Always lock your bike's frame and wheels with a high-quality, modern U-lock (with a disc/flat key).
o   Use a U-Lock instead of a cable lock. U-Locks are solid steel and are very hard to cut. Cable locks can be cut easily.
o   Record your bike's serial number and take a picture of the bicycle.
o   Be a good neighbor and watch for suspicious activity in your neighborhood.
o   Contact your local Law Enforcement agency to report suspicious activity.
Some poor examples of locking your bicycle;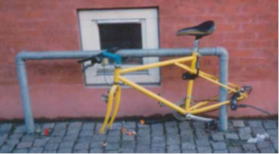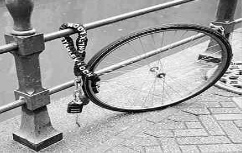 The correct way to secure your bicycle; both the frame and the wheels are locked.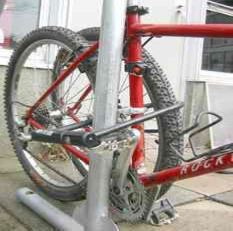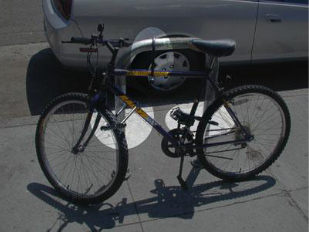 If you have any questions about the information, please feel free to contact Captain Doughney or any member of the Flagler Beach Police Department.