"Flagler Beach Enhancements for the Disabled"
The City of Flagler Beach is proud to announce the recent acquisition of equipment to enrich the Beach experience for residents and visitors with disabilities.  The equipment includes wheel chairs with extra-large tires for movement through sand, a semi-recliner chair for use in the water and wheel-chair accessible benches on the Pier.
The City thanks the Hilton Garden Inn Palm Coast for donating the two (2) beach wheel chairs.  The seaworthy chair, called a Mobi-Chair, was purchased in part with profits from the two (2) telescopes at the North 4th and South 8th Street Sea Dune crossovers, and through the City Recreation Fund.   All chairs are available to the public free of charge.  Additionally, wheel-chair accessible benches have been added to our World Famous Pier.
"Our continuing goal is to make our Beach experience one that is safe and memorable for all who come to Flagler Beach," stated Flagler Beach City Manager Larry Newsom.  "As a City we are pleased and proud to offer those with disabilities more access to our lovely beach and ocean."
Persons or parties that would like to utilize the mobi-chair or the beach access chairs, should contact the on-duty Flagler Beach Pier & Bait Shop Attendant.  A Driver's License or identification Card will be required to reserve the specialty equipment and will be promptly returned when the specialty equipment is returned. The daily hours of operation for the Flagler Beach Pier & Bait Shop are 6:00 a.m. – 12:00 a.m. (midnight) and the phone number for the Pier & Bait Shop is (386) 517-2436.  Photographs of the specialized equipment are on page two (2) of this release.
#FlaglerBeach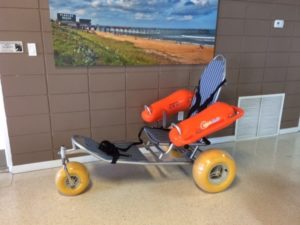 "Mobi-Chair"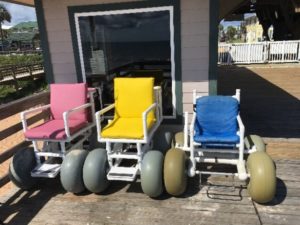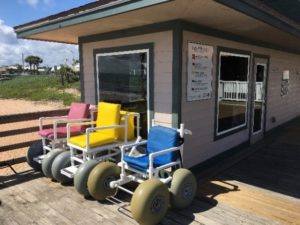 Beach Access Chairs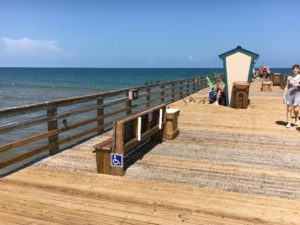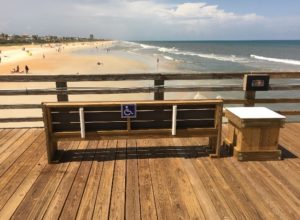 Wheel Chair Accessible Benches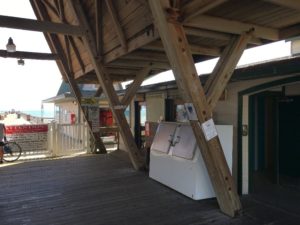 Flagler Beach Pier & Bait Shop
(386) 517-2436